The
"Dog Kennel"
Where do I begin ? I wanted something small and light enough to be towed by a VW trike, but there wasn't anything suitable on the market. That meant only one other option - build it yourself. So back in 1994 I went out and bought a ten metre length of 2" X 4" box section and set about making what was later called the "Dog Kennel" At the time I didn't have access to such luxury as mains power, so almost everything had to be bolted together. Luckily I did have access to a Hilti rechargeable drill, and that was the tool which more or less made the Dog Kennel.
---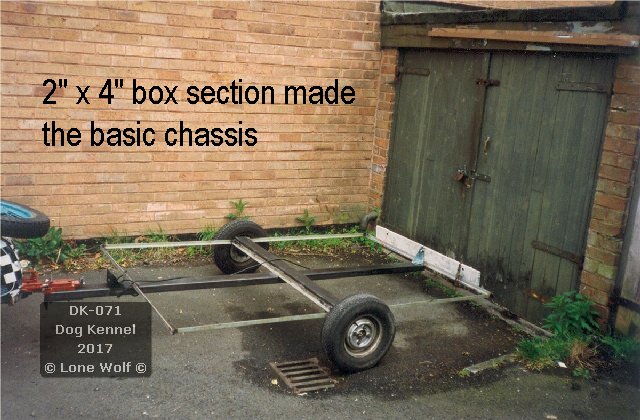 ---

I bolted things together, then towed the chassis to a friend's workshop where the bolted bits were welded in place. All of the other steelwork came from various sites around the Black Country where blocks of flats were having new lifts fitted - being a lift engineer does have its uses. All the wood was bought new, mainly marine ply for the floor and the lightest available wood for the roof and sides. The wheels were from a mini, and by means of a back plate welded to the suspension units I was also able to fit brakes to the wheels. Now I know trailers are not supposed to have hydraulic brakes, but fitting an over-run braking system was a bit out of my price range.
I also wanted some way of being able to stand up, so I made a built in slide out awning - this gives an extra 7 foot or so of standing room. Over the years a few other things have been added, such as a gas bottle cupboard on the front and better interior lighting.
---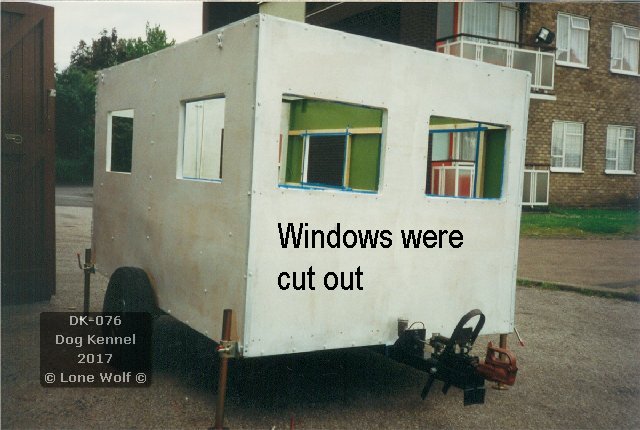 ---
Dimensions are as below
---
---
Right - time to start using the Dog Kennel. Its maiden voyage was to a MAG rally held at an equestrian centre near Upminster. OK, so it was a boring ride down the M6 - M1 - M25 but it proved the trike was more than capable of pulling the Dog Kennel.
In fact it has pulled it over a fair bit of mainland Europe.
---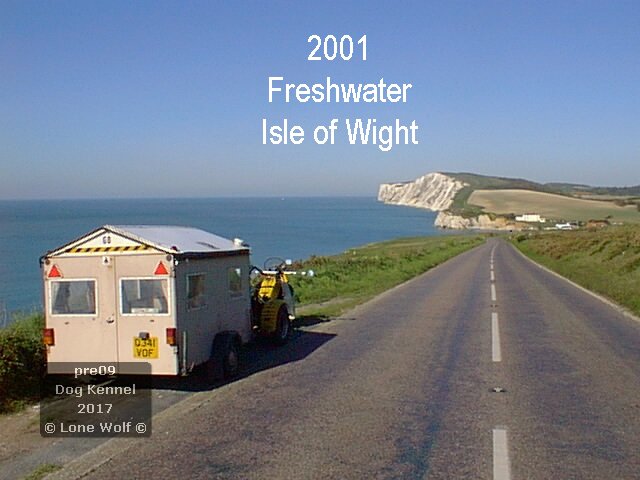 May of 2009 was the last time I used the Dog Kennel before the accident. For the next two years I was physically unable to both move the Dog Kennel or get in and out of it - so it stayed sat in the garage until 2012 when I tried to use it once more.
---

I never used the Dog Kennel in 2016 - I now have a trailer tent, which is easier to move around, and I've also got a camper van with which I tow the bike on a trailer. This makes life a lot easier.
I have to face the fact that I can no longer use the Dog Kennel comfortably - I struggle to get it out of the garage, I can't maul it around as easy as I could before the accident and I find it awkward to get in and out of it.
Sadly the room taken up by the Dog Kennel can be put to better use these days - I don't want to park it outside to slowly rot away - I'd rather it goes to someone who has a use for it.
---
I decided to make another effort and take the Dog Kennel to the Grubs rally - to be honest, I'm glad I did.
After spending the weekend there, I realised that there are just too many memories of past rallies and holidays tied up with the Dog Kennel . . . so I'm going to try and use it more often from now on. . . . ( famous last words )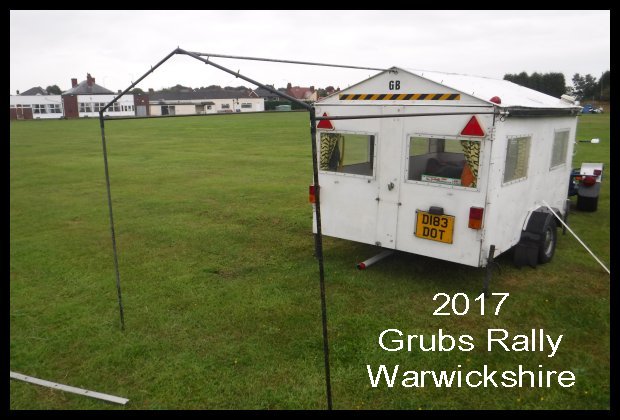 ---