Otto's Outings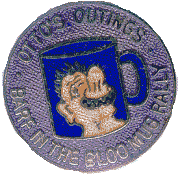 "Barf in the Bloo mug"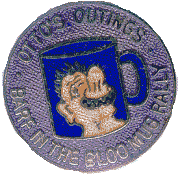 13th - 15th December. 2002.
---
Ah well, it's grey, wet, cold, gloomy - what better reason to jump on the trike and head off camping ? Seeing as the trike has now got a nice new battery, I thought it was time to put it to the test. It started first time, just like it always used to. Wonderful things, these new batteries.
It didn't take long to reach Market Bosworth, a grand total of 37 miles to be precise. It didn't take long to spot Otto either - there he was, lurking on the field and pouncing on poor unsuspecting bikers. Myself and Roy set up camp and headed for the warmth of the rugby club, where curry and chips soon found a new home. Having fed, we wandered over to Otto and booked in. As well as the rally badge, we were given a Mars bar and a "bloo mug" - barfing in the latter was optional. My bloo mug is now sitting next to me, and contains all the little "odds and sods" that normally float around next to this computer - each time I look at it I think of Otto, which may not be a good thing (evil grin).
Raffle tickets seemed to be the next item on the agenda - he gets everywhere, this Otto chap . . I reckon there must be more than one of him.
---
Now for all those who don't believe in Santa - - just who do you think this is then ?

Yep - the man himself, but I did have my doubts about some of his "little helpers" though ! - some of 'em bore more than a passing resemblance to a few bikers I know.
The evening carried on as all good evenings should, beer, banter, dancing and feeding. I have a feeling that Santa may have left a few people a pre-Christmas hangover as a sort of early present.

---
By around half past eleven, it was raffle time, and the ubiquitous Otto was pulling tickets out . . . "61, red ticket." Bugger !! - mine's green. Never mind, 61 did come out on the green later on and I ended up with a stainless steel vibrator - or at least that's what I thought it was, until some kind soul pointed out that it was a thermos flask - ah well, you can't win 'em all (grin).

The various awards followed, but for some reason I seemed to have missed 'em - probably off feeding, knowing me.
By the time I left the club, the weather had taken a turn for the worse. Driving rain and strong, gusting wind. At least it wasn't cold, well, compared to the last few days it wasn't cold. I'm afraid the wind took its toll on Roy's trailer tent, the back section had ripped from top to bottom. Looks like the sewing machine will be coming out shortly. The "dog kennel" didn't suffer any ill effects . . . this time.
I couldn't help noticing the junior rugby players, these kids were running around in the mud and the rain, diving face first across the muddy grass, and it made me wonder
" Who's the idiots, us or them ? " At least they get a nice warm bath as soon as they've finished, whereas we have to pack up and ride home, and for one chap I was talking to, the ride home was 180 miles or so. Still, each to their own, if it wasn't for the rugby players then we wouldn't have such a good rally site.
---
.......and so ends another weekend away. What can I say ?
Otto - you're a star. It's hard enough organizing a rally when there's a load of you, but Otto more or less puts this one on single handed. I only hope you managed to cover your costs. . . and no doubt I'll catch you in a field somewhere.
The ride home was uneventful, wet, but uneventful - here's to the next one.
Cheers.
^..^

---
back to