The first.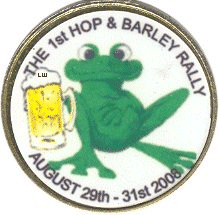 Hop and Barley rally.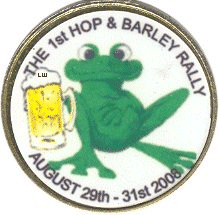 29th - 31st August. 2008.
---
This was a "last minute" rally for the Moonshiners, although I can't see why. We could have pre-booked and saved a few quid, but our loss is NABD's gain. The person to blame for this 'ere rally is one Dave Silburn, who does a grand job as a NABD rep. The Unwanted M.C.C also pulled more than their fair share of weight - well done, it ain't gone un noticed.
---
Right - it's Friday night, I've had my tea, the bike is all loaded up. Yes, this is yet another rally that I was doing using two wheels. This time the bike was a rally virgin - albeit an ugly, MZ shaped rally virgin, but a virgin non the less. It didn't take all that long to cover the twenty-odd miles to Burton on Trent, and the Shobnall sports and social club. I hadn't been booked in for long when a few more Moonshiners followed on behind. One of our members, Archie, has developed a Ukulele addiction. I wonder who he caught that from ?
Having got the tent set up, the next thing was food. Now I always take my own food - I've been caught out on too many rallies that have had either no catering or very expensive / dodgy catering. I can say that the catering at this rally was first class. Excellent food at prices that were more than reasonable. To make things even better, the catering van is normally situated at the end of the road where my work is based. I can see a few visits to this place in the near future. After the feeding, comes the drinking. Marston's Pedigree was the beer of choice ( well, I must confess to drinking a bottle of "Old Peculiar" earlier ) Along with the drinking came the talking bollocks - both of which we are well versed in. Eventually we ran out of beer . . . . and so to bed.
---
First port of call for me was the Oakmoor transport cafe. although the food on the site was first class, I decided a little ride out was in order, besides, the toilet facilities at the cafe were more tempting than the ones on site. One breakfast later and I headed back to Burton. I know of a rather alluring army surplus / camping shop, Springfields, which is just next door to the brewery museum. What did I find in there ? A crowd of Moonshiners. Seems great minds think alike - or fools seldom differ . . . you choose. The club sort of did a three way split. Some went to get fed, some went back to the site, and three of us headed out for a run. I can't help but thinking one person bore more than a passing resemblance to a certain "Crazy Frog".
The three of us, myself, Andy and Bones, took the back roads out towards Ashbourne, then called in at the visitor centre at Carsington Water - where it would have been rude not to have indulged in ice cream. Dinner was the next thing on our minds, and Matlock was decided upon. Oh dear, that wasn't such a good idea now was it ? The place was absolutely rammed. This called for plan "B". We'll head out towards Bakewell and have dinner there. Well we didn't actually get much further, Andy's throttle cable snapped. Luckily, most Japanese bikes run a 'push / pull' cable system, so it was just a case of taking the broken 'pull' cable off, and swapping it for the 'push' cable. Good job these East German bike riders carry a few tools, eh ? Once the throttle cable had been fixed, the bike went into a terminal sulk and wouldn't start. Right - a bloody good push will get you going, and it did . . . . only the thing wouldn't run unless the lights were turned on. Most odd. It turned out to be a dodgy battery, once we got back and fitted the spare one, it fired up a treat. Ah well, we can have dinner back on site.
---
Of course, having fed, I did the lie down for a kip thing, waking up just in time to walk over to the club for a post-dinner drink. One drinks leads to another, and so the evening went on. Much banter, much laughter, no attitude, no hassle, and above all, the weather was excellent. You could just sit outside and chill out - or you could go into the club and listen to the bands. Just how a rally should be. Now it seems my MZ was not the only rally virgin. Quite a few folks were getting into a fair old lather over things.
Other folks were just sitting there taking no notice - which is always a good thing to do.
Now it just so happened that a wheelbarrow, or two, were floating around. I'll leave it to your imagination as to what happened. Some things are best left unpublished on the internet.
---
Once again, the Moonshiners took a few awards. Let's start with rat bike. A bike which earlier in the day had eaten its own throttle cable, then threw its toys out of the pram and wouldn't start, but despite all this, it got back to the site and took the rat bike award.
The next award was for club turnout. With all the skill of a seasoned sheepdog, I managed to get most of the club assembled in front of the marquee, and it wasn't a pretty sight. After all that exertion, I called it a night, and wobbled off to bed.
---
Sunday morning and my head hurts. I thought it best not to risk eating anything, I had a feeling that it wouldn't have stayed put for very long. I did quick packing up of the tent, and an even quicker loading of the bike. One poor chap was in even more of a rush than me - and promptly dropped it on the wet grass. One ambulance later . . . . remember folks, wet grass is bloody slippery. It's all too easy to come a cropper at ridiculously low speeds. I wish the fellow all the best. The journey back along the A38 was fairly uneventful. I did have a 'moment' whilst passing Sutton Park, and pulled over feeling very green around the gills. A few of the golfers who were crossing the road gave me a strange look - if only they knew why I'd pulled over, they'd have given me a stranger look and a wider berth. I can say, with hand on heart, that I hadn't had a hangover for years - and I don't particularly want one again for a good few more years. There again, by tea time I was all fit and well - roll on the next rally.
---
So this was the first Hop and Barley rally. For a first rally, I though it was a resounding success. I didn't hear anything but praise from the rest of the Moonshiners. The site had character, shall we say ? The weather could not have been kinder to us - not too hot, but mild enough to sit outside all night. There were plenty of stalls to peruse, though I must admit I didn't get around to nosing in 'em all. The town of Burton on Trent was within walking distance - well some of our lot walked there, so it couldn't have been too far away. The catering was spot-on. OK, so considering we were in the home of brewing, the beer could have been a tad better - I don't mean that in a degrading way, it's just an observation. ( It couldn't have been that bad - it gave me a hangover ). Maybe the toilets could have been better, but I've been on rallies with far, far worse facilities than these, believe me. Yes - all in all, a bloody good weekend, and supporting a damn good cause. Many thanks to Dave Silburn, the Unwanted MCC and all the other folks who helped make this a most enjoyable weekend. Y'know, sometimes it's good to be a biker.
---
^..^
---
back to