Moto Guzzi club G.B.
Bacon Slicer rally.
8th - 10th July. 2005.
---
"Bacon Slicer rally" - what kind of a name is that for a motorcycle rally ?
Well, I'll try and explain.
No - you're not going mad, this is the same introduction as the 2003 Bacon Slicer rally page. If you really must, then click HERE to miss this bit out
---
Those of us of a 'certain age' will remember the old butcher's shop, back in the days before foot and mouth and mad cow disease.
One of the main features of the butcher's shop was the bacon slicing machine. Now this wonderful device, which was traditionally painted bright red, had a large chromed hand wheel which the butcher would turn, and out would come slices of bacon.
Non of your pre packed, injected with smoked flavoured brine stuff here, this was bacon at its best, and the bacon slicing machine was all part and parcel of the experience.
The pure mechanical simplicity of this machine was a joy to behold, the handle turned slowly, the bed plate moved back and forth whilst the cutting wheel sliced the meat into rashers of the desired thickness. . . If only motorcycles had such appeal. Well, certain bikes do have this appeal, and for very similar reasons too.
Imagine, if you will, a traditionally red painted machine, with a large chrome flywheel and a most un-hurried tick over.
It's no wonder that the Moto Guzzi range of single cylinder bikes came to be affectionately know as 'Bacon Slicers'.
Now seeing as I just happen to have a 'modern' Bacon Slicer ( for 'modern' read made in 1973 ) what better excuse do I need for taking a run down towards Bath, and the 'Bacon Slicer' rally ?
So with the sun shining, and what promised to be a glorious weekend weather wise, I loaded up my own mobile bacon slicing machine - OK, so it ain't red and the flywheel's hidden behind a large cover, but it can trace it's ancestry back to the 'real' bacon slicer singles.
---
Right, here we go. The last ten weeks or so had been rather stressful, shall we say ? What I needed was a therapeutic ride on my bike, combined with a night's camping, so, without further ado, the little green Guzzi was loaded up and pointed roughly South.
Now where did I put that kitchen sink ?
Once again, the weather was more than kind to us. Glorious sunshine, but not too hot for comfort. In true single cylinder fashion, I opted for the more scenic route, taking in the 'back road' from Cheltenham to Stroud ( the B4070, I think it is ). Fellow Moonshiner, Andy, was following on a rather jolly 650 Ducati, so I would imagine keeping up with my Nuovo Falcone wouldn't present much of a problem - terminal boredom would be a greater threat. One hundred miles later, and we arrived.
Tent up - let's eat.
It didn't take long to get the tent up - these Khyam 'one touch' tents certainly make life much easier, especially if you tend to do a fair bit of camping. Food was the next thing on the agenda, so out came the good old Primus stove.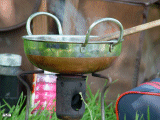 Nowt like a good curry for tea.
I was happily messing about with methylated spirits and paraffin, when someone came over and started 'talking stoves'. Well, we exchanged a few secret passwords, such as "Burmos" and "Parasene", we then discussed the merits of silent burners over roarer burners. Yep - a fellow "Stovie", namely 'Onepot', who often posts on the "Classic Camp Stoves Forum" - What is it about Primus stoves and single cylinder bikes ? Having fed, we then took a stroll around the field, admiring the various single cylinder bikes on display.
A very nice Ducati A 'traditional' bacon slicer
The rest of the afternoon / early evening was spent sitting in the shade and generally taking life as it comes, which when all's said and done, ain't a bad way to spend half a day. Of course, we just had to wander over to the pub later on and make sure the beer was up to standard, which it was. We rounded the night off by sitting outside and abusing our Ukuleles - which isn't a sexual euphemism before you ask.
---
Sunday morning, and the weather forecast was correct. "Bloody hot" was to be the order of the day, and they weren't joking. We leisurely packed the tents away - it was far too warm even this early in the morning to rush things, and bid our farewells before heading across the Severn Bridge and taking the even more scenic route back. We stopped, as per normal, at Tintern Abbey for a cuppa. I had just taken a large mouthful of coffee when for some reason I inhaled at the same time. Poor old Andy copped the full force of it - I don't know who was the more surprised, me at choking, or him at getting coffee blasted. With the temperature still rising, we carried on along the Wye Valley, then up the Malvern Hills to British Camp, where we ( as usual whenever we use this road ) stopped for something nice, cold and ice cream shaped. The rest of the journey back was uneventful. We rolled up back home by early afternoon, having done just a tad over 200 miles over the weekend - the 'more scenic' route back was only ten miles longer than the 'direct scenic' route down there. The Guzzi did what the Guzzi does best - it rolled along, albeit not too quickly, and drank a gallon of petrol every sixty miles.
---
So ends another 'Bacon Slicer' rally - a most enjoyable event it was too, in fact, just the thing I needed this weekend
---
Many thanks to the lads and lasses of the Moto Guzzi club for putting on such an enjoyable weekend - take a nose HERE for more details of their club. For those folks who are a little intrigued about Nuovo Falcones, take a look HERE for more information.
---
Cheers.
^..^
---
back to