Tattie Wine Rally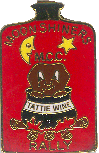 Moonshiners M.C.C.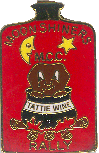 1st - 3rd August. 2003.
---
Once again, we made the trip up North to visit the "other" Moonshiners ( click HERE for last year's tale ). This time there were meant to be sixteen of us, but at the last minute six dropped out. Now if those six had given their tickets to anyone else who was going, they may have stood a chance of selling them on the gate and not being quite so out of pocket - plus if the rally was fully booked, it means that six people who would have been turned away, would have got in . . . just a thought.
Anyroad - enough of my moaning, and on with the show.
It seems almost everyone at work had booked the week previous to this one as a holiday, so there was no way I could set off on Friday, also, just for good measure, the trike had developed a dodgy gearbox problem so it looked like the Big Red Ugly Bike was coming out to play. As much as I'd loved to have taken the Guzzi, I'm afraid the amount of motorway riding made it a most unsuitable choice. Indeed the motorway proved to be the quickest way up there, and with the B.R.U.B sporting a new, larger gearbox sprocket it didn't take all that long to cover the 213 or so miles up to the rally site. Next thing was throw the tent up and head off to find the Angel of the North. . . . and find it we did.
"Ooh - it's rather large " seemed to be the main theme of the comments.

Next stop was Westgate Road, in Newcastle. We had been told this was a road full of bike shops, and would you believe it, so it was. It also had quite a few eating places too, so that killed two birds with one stone. We couldn't help noticing a certain shop by the name of " Ken's Motorcycles". Now it just so happens our club treasurer is named Ken - I wonder if that's where the club funds have been going these last few years ? Of course, we managed to get just as lost trying to leave Newcastle as we did trying to find it in the first place, but who cares ? We were on holiday, we weren't in a rush, and we had all day.

More by luck than judgement we arrived back at the rally site just in time to witness a rally virgin being introduced to some of the finer points of rallying.
First you apply beer - over the head rather than in the mouth - then a nice bucket of muddy water is poured down the back of the trousers, this is followed by a liberal dose of red food colouring, a few dozen eggs and a large bucket of water. Then add flour and leave for a few minutes. The chap took it all in the spirit in which it was meant - a quick hose down and a change of clothes later and he was non the worse for his ordeal.

The rest of Saturday night went as all Saturday nights should - beer, band, food, banter and the other hundred and one things that make a good rally. I noticed the gent's toiled had gained a few occupants since last year in the form of a dozen or so cows. Makes a change for them to step in it, rather than the other way around. Speaking of toilets - that stalwart of last year's rally, the "Shithouse Technician" was missing, and did we notice it on Sunday morning ! It was a brave person that ventured into those thunder boxes. That aside, the rest of the rally was faultless - the club members even came round on Sunday morning and gave us alternative directions for leaving the site seeing as the police had set up a " roadside MOT and breathalyser station" at the end of the farm track.
Having said our goodbyes to the "other" Moonshiners, we were ready to move on. Three of "our lot", Kath, Nigel and Pauline were heading back home, whilst the remaining seven were carrying on to Whitby for a few days.

---
---
The rest of the week's wanderings .
---
Whitby abbey - by day and by night.
---
The A 171 is one of those grand motorcycling roads. It winds its way across the North Yorkshire Moors and drops down into Whitby. What a pity that the few campsites we called at along the way were all prejudiced against motorcyclists. Just what did they expect seven middle aged ( God - I feel old writing that bit ) people to get up to ? Happily, the reception at Whitby was exactly the opposite. We found an excellent campsite just a few hundred yards from the Abbey - OK, so you had to walk down 199 steps to get into town, but the taxi fare coming back was only a few quid. We even managed to get a minibus for the grand sum of a fiver. Now this was more like it - we found a nice little spot and set up camp. In true Moonshiner tradition, we had to examine the pubs in town, in fact this seemed such a popular exercise as we repeated it a few times just to make sure we hadn't overlooked any.
The weather forecast on the radio was talking about an impending heat wave, and they weren't wrong. I was just glad we were camped right by the sea. That cool sea breeze was a saviour.
Monday morning saw us preparing a lazy breakfast before heading down into Whitby for a general nose around. Whitby is one of those coastal towns that hasn't been totally ruined by tourism - it hasn't fallen victim to the amusement arcade and "tat" shops that seem to infest these sort of towns . . . maybe it's only a matter of time ?

---
Tuesday morning and it looked like being another warm day. Myself and Scrote decided to pay a visit to the North Yorkshire Moors railway, this turned out to be something of a wrong move, it was packed. One of the snags of nice weather combined with industrial holiday fortnight I suppose - the fact that swarms of people were heading for Goathland didn't help either - apparently it's where they film "Heartbeat", so the significance of that was lost on me seeing as I don't have a television.
At least we managed to meet up with Ken, so the three of us carried on to Oliver's Mount race circuit, taking in the scenic toll road through Dalby Forest.
Of course, you can't visit a road race circuit without doing at least one lap - I'm not going to say who took off like a scalded cat . . . . . . only to finish last. Apparently he got lost somewhere along the way. Oh the shame of being beaten by the Big Red Ugly Bike.

We rounded the night off in the Tap and Spile, a rather decent pub down in the town which just happened to have a most excellent three piece folk type band playing, and bloody good they were too.

---
Wednesday - and it was shaping up to be even hotter than the day before. I took the Big Red Ugly Bike down by the abbey for a quick photograph, besides, if nothing else it helps fill the web page up.
Ken and Kella were heading for home, so the remaining five ( the infamous five ? ) decided to take a ride inland. This, as it turned out, was not a good idea. Once you were a few miles inland and away from the sea breeze the temperature soared. We stopped a few times to take in the scenery but decided the best plan of action was to head into the nearest pub and grab something to eat and drink. . . . .and before you all start moaning about how drinking and driving ain't clever, can I just point out that we were drinking soda water and lime juice.
We carried on touring the scenic roads of North Yorkshire before following the coast back to Whitby were we once again headed for the pub. Now it just so happened that there was a guitar in this pub, so most of the night was spent murdering well known songs. Well -- " I've suffered for my music, now it's your turn "
---
Thursday - and then there were four. Scrote travelled with us as far as Buxton, then headed for home, but not before we managed to drag him into " The Victorian Image".
The Victorian Image is a photographic studio in Whitby that specializes in reproducing old fashioned sepia toned images. You are dressed up in some very dodgy trousers without any rear to 'em, along with just the front half of a shirt, add a coat and a few odds and ends and the result is a Victorian style photograph.
What do you mean " Let's have a look then ? " OK - click HERE. I ain't on commission, but I'd recommend 'em.
By late evening the remaining four of us, Pete, Ollie, Roy and Myself, found ourselves at Wetton, in the Peak District. We only just managed to get the tents up before it was dark, then it was a swift pint in the local pub, and off to bed.

---
Friday was spent in a most leisurely fashion - a little wander around Ashbourne, a bit of dinner, a few items of shopping, then return to the site and just chill out. We didn't even bother with the pub, we just sat around outside eating strong cheese and drinking various beers.

---
Saturday and the sun shone with a vengeance. I was roasted out of the tent well before eight in the morning, so I took a stroll with my camera before it got too hot to do anything else. The only thing to do in heat like this is ride the bikes, so that's what we did. The little back roads around the Manifold Valley, then on to some of the slightly wider roads before heading into Derby for a nose around the markets.
Once again we rounded the night of by sitting outside the tents feasting on bread with home made garlic butter, chicken tikka massala, the obligatory blue cheese and a few tins of beer. We were surprised to hear the weather forecast for tomorrow said rain and thunder - as it turned out, they knew something we didn't.
---
Sunday morning, and the sun came up even earlier and hotter than yesterday. I decided to pack up before it got too hot and uncomfortable. The other three arose a little later, mainly due to their tents being in the shade for a good hour longer than mine was - that'll teach me to pick a better spot next time.
By this time a few clouds had rapidly appeared, rapidly as in within minutes, and no sooner had I started the bike to set off home, the rain came down. Now seeing as it was still too warm for comfort, the rain was quite refreshing. The bloody great clap of thunder that came a few seconds later wasn't - neither was the torrential downpour that lasted for a few minutes. Still, if nothing else, it cooled the air down for the rest of the journey home.
---
So ends another rally, and another week's holiday. We had good weather, we had a good rally, we had good roads and we had good company, and when all's said and done, ain't that what life's all about ? The Big Red Ugly Bike never missed a beat in 850 miles - I really must treat it to an oil and filter change after that, it's well overdue now.
---
Having waded through that lot, I bet you're glad it's the end now ?
---
Cheers
^..^
---
back to