Toads and Dogends RC
"Toadily Wasted rally"
18th - 20th October. 2019
---
Last year I had to give this rally a miss - I'd just had laser eye surgery and thought it would be best to err on the safe side. This year however, all eyes were in good working order, so it was time to drag DOT and the Dog Kennel out and make the 35 mile journey down to Kempsey.
The rain we'd had over the last few days had made the usual rally field a bit too soggy for use, luckily there were a few bits of hard standing which was ideal for trailer tents and such like. With a bit of help from "Mr. Sizzle" ( one of them there Toads ) the Dog Kennel was soon mauled into place.
---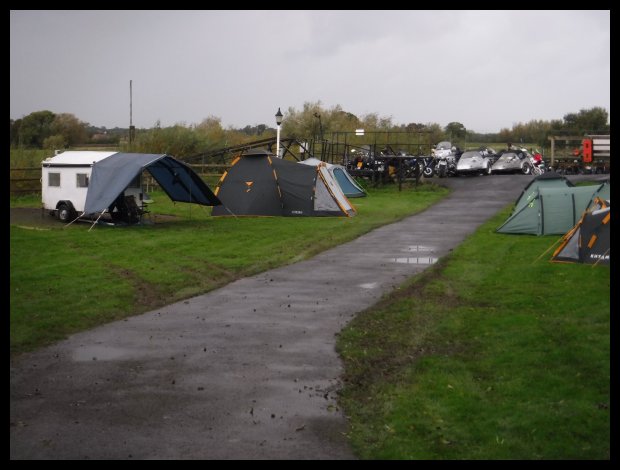 ---
Having got everything set up, I took a wander up to the bar - ah, "Black Sheep" that'll do nicely. Clutching my tankard I wandered back to the Dog Kennel to sort some dinner out. Pork with sweet chilli and ginger, a couple of rounds of bread, and all washed down with Black Sheep. Having fed I lay there listening to the radio and doing a bit of reading. Needless to say, I fell asleep - which ain't a bad thing 'cos I didn't want to head for the pub too early. I woke up a couple of hours later and everything was dark and quiet . . .only it shouldn't have been dark and quiet . . . it should have been light and the radio should have been on. Bugger - the battery had gone flat in the Dog Kennel. My own fault, I should have charged it before I left. Normally I would have just run DOT alongside the Dog Kennel and connected the trailer plug. There's a 12 volt supply wired where the fog light terminal usually fits. Seeing as the field was rather soggy, and DOT was parked up on the car park, this was not an option. Ah well - I've got my torch, and I can easily run back home tomorrow and pick up my leisure battery.
---
Saturday was quite decent, weather-wise, so it was off on DOT for a scenic ride around, calling back home to pick up my leisure battery. I got back on site around tea time, connected my battery up, then took a stroll up to the bar. Tonight's beer was "Butcombe Original" - the Black Sheep had sold out. In fact, the Butcombe sold out later on as well - which wasn't a problem as there was still plenty of " Wye Valley HPA". All this beer made me think about something to eat. Next door to the real ale bar was a small kitchen selling rather nice beef burgers and such like. A cheese burger with onions was just the thing . . . . then it was back to the drinking.
I spent most of Saturday night catching up with folks I had not seen for a good many years. This is the advantage of a venue with more than one room - those who wanted to listen to the band / disco could head for one room, those who wanted to sit and chat could head for the other room. For me, Friday was spent listening to music at a volume which made conversation impossible - which suited me 'cos I just wanted a night to "switch my brain off to all but the music" Sometimes this is the best therapy.
---
Sunday morning, and would you believe it - the sun was out. I wasn't in a great rush to pack things away, so I sat for a while with a cuppa in my hand, thinking about rallies and such like. Looking around at the average age of the people around me, I began to wonder if bike rallies are starting to die out ? OK, so you don't get things like the tug o' war and dizzy stick - such things would probably end up with most of the contestants needing medical assistance. Still - enough of this "what if" stuff - as long as people still turn up, then rallies will continue, which is all good in my book. More to the point, as long as there are still clubs like the Toads and Dogends who are willing to put on such rallies, then I dare say folks will still continue to turn up. So many thanks to the lads and lasses of the Toads - it was a most ( moist ? ) enjoyable weekend despite the somewhat soggy conditions.
---

Cheers.
^..^