MOONSHINERS M.C.C.
"UNPLUGGED"
a chuffin' good rally
11th - 13th March. 2005.
---
This was the tenth rally that we have held since the resurrection of the old "Bogsate" rally, two of 'em being held at Grindley Brook, near Whitchurch, and the rest of 'em being held down by the Severn Valley railway. Now you would think that with at least fifteen years or more experience of holding rallies we wouldn't have any problems. Oh dear, if only life were that simple. The first little niggle, or should I say 'nibble' was the condition of our good old faithful control tent. It seems a few mice had decided to make a meal of the roof, still, we've certainly had our moneys worth out of it.
The next few problems concerned the site itself. Now considering that last year it resembled a building site rather than a rally site, we had already been down there in January and confirmed with the gaffer that this year we wouldn't have the same problem. Well, apart from the section that was roped off, I suppose he was correct. Having set up the control tent, we fired the gas burners up to boil the water, we set up the trestle tables, in fact, things were looking good. It was when we went to connect the lights up that we noticed another slight problem. No electricity. It seems the wiring had been ripped out during the latest phase of 'building site' work. Arghh - having had a good rant I must confess to feeling better. By sticking a Moonshiner ( or anyone else who happened to be within grabbing distance ) on each corner, we picked the tent up and moved it across the field to the nearest working electricity supply. Thus we ended up with a fully functioning control tent, complete with free tea and coffee making facilities. I don't know -- we're just too good to you lot sometimes.
"Sam the Pram" and his rather strange trike
`Friday night went down as all good Friday nights should when on a rally. Beer, banter and generally having a good time. I noticed the stock of monster size cheese and ham cobs had gone down well during the evening - gone down to such an extent that we had to make some more for the next day. Sadly these were only half the size, but on the plus side, they were only half the price.

---
Saturday morning - and for the first time I decided to take a trip on the train. ( Well, I did ride on the Severn Valley railway back in 1982, but that doesn't count. ) Brace yourself Bridgnorth, here we come.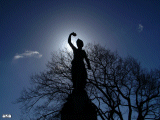 Sabrina - Goddess of the Severn.
If nothing else, the trip to Bridgnorth gave me a good excuse to play with my new camera, so don't be surprised if some of the pictures are the wrong size / resolution / shape / flavour / etc.
Now one of the more interesting shops in Bridgnorth is the indoor market come junk shop. As you can imagine, this place kept us amused for quite a while, with some of our members actually buying things despite the 'optimistic' prices that some items displayed.
Me disguised as a Rabbi Firkin and Gordon - a pair of top hats.
In true Moonshiner fashion, we ended up in the pub. In my own true fashion, I only had the one pint before deciding to go and find something to eat, then heading back to the station for a nose around at the steam trains. By mid afternoon I was back on the rally site. A few more folks had booked in, one or two folks had left, and there was a bit of a cold wind starting to blow across the field. By early evening, the rest of the crew had returned from Bridgnorth and were all ready to start drinking again. What a splendid idea. This year the pub wasn't as crowded as the last few years ( only around 70 folks booked in this year, as opposed to around 120 last year ) so those that preferred a quiet pint and a natter could retire to the bar and escape the chaos that was taking place next door. The rest of Saturday night followed the usual format, raffle, awards ( though I didn't take note of who won what this year ) feeding and drinking.......and so ended Saturday night.
---
Sunday morning - and time to pack up, clear the field, and head for home. Despite a few small annoyances, I thought this year's rally went well. The lower attendance meant the pub wasn't so crowded ( I'd say about 100 is the upper limit for such a place, but that's me, I ain't a great lover of packed pubs ). Once again we were fortunate with the weather - OK, so the wind was cold and we did have some rain and hail, but it could have been so much worse, just look at the snow we had only the weekend before. It does appear that God loves the Moonshiners sometimes. The Severn Valley railway always seem to have some kind of special event that coincides with our rally , and this year was no exception. They were running much smaller trains, in an effort to capture the 'branch lines of the 1940s' feeling, and with that thought, I'll leave you one last picture, which just about sums up what I like about our rally and the Severn Valley railway.
Working hard pulling away from Hampton Loade.
Cheers.
^..^
BACK TO
2005