Bed and Breakfast weekend
Rhayader
January 13th - 2012
---
I did manage to get away down here this time last year, but due to feeling annoyed, and generally rather pissed off with life following the accident
which has left me unable to do much of what I used to do, I couldn't be bothered with a write up . . . . this year I'm going to try and be more positive.
---
Once again we head to Rhayader, and the ever popular Liverpool House - this time we managed to fill the place, with sixteen of us booking in. The "excuse" for this weekend of enjoyment is Steve Becket's birthday - but we've also been down here two weeks later for Andy's birthday. Ah well, any excuse for a weekend away.
Friday the thirteenth - good job I ain't superstitious - and I go and pick up Andy M. I'm afraid it's too cold to be venturing down there on the bike, besides, the very nice man on the telly said there would be freezing fog in the morning . . . . and you know what ? He was right.
We arrived about an hour before dark, and took a drive around the dams before booking in at Liverpool House. There was absolutely no wind at all, and the surface of the dams was dead flat. I wish I'd got there a good hour sooner, 'cos it would have made for some stunning photographs. Still, here's a photograph taken the next day, which shows just how flat it was.
---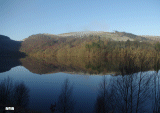 ---
Having booked in at Liverpool House, the next stop was the Bear's Head. Well, you have to have a pint before a curry, and speaking of which, myself and Andy walked next door and promptly fed. One curry later and we walked - or I should say Andy walked, I sort of limped along. I did notice that I found it a lot more difficult to get about this year, than I did last year. This is due to the Heterotopic Ossification in my pelvis - or in layman's terms - the bone has continued to grow, which in turn restricts movement. All being well, further surgery will fix this, but that's besides the point. Restricted movement or not, the next stop was The Lamb and Flag, where most of the others were sat drinking. So as not to feel left out, we sat drinking too. The next port of call was The Cornhill, where they had a bit of entertainment laid on in the form of a couple of guitar players. I found it far too hot in there, that, and the fact that the seats were far too low for me to sit on, meant I stood outside. Good job I don't feel the cold - the freezing fog had indeed come to visit. Our next, and final stop, was Ty Morgan's - this was the place I stayed at last year, and apart from very low doors on the top floor, I couldn't fault the place. Having got back to Liverpool House, it was time for a cuppa, then bed. I didn't have what you would call a good night, but that was nothing to do with the bed, or the room, it was more to do with a certain leg of mine.
---
Next morning I woke in time for breakfast and took a look out of the window. Everything was frozen. Hmm, looks like coming down by car wasn't such a bad idea after all. Breakfast is served in the building next door, so I went to make a move and found the door wouldn't open. Oops, locked in my own bedroom. The door handle wouldn't quite turn enough to free the latch, and I hadn't got my Leatherman or anything similar on me. Luckily I did have my phone, so I called Andy, who was in the next room, and asked him to rescue me. One rescue later, and breakfast soon followed.
Today's plan was to look at the dams, then head for the seaside. Amazingly, this went according to plan. We took the main road across to Aberystwth and stayed there a while, just watching the sea.
---
---
All this sea watching made us hungry, so it was down the coast road to Aberaeron, where we found a chip shop. So there we sat, parked looking out to sea, eating chicken sandwiches and chips, drinking coffee, and just doing the things you do to relax. Next thing you know, a car pulls alongside us . . . . and it's Ron and Maz. Seems they had a similar idea.
After dinner, it was time to head back. We decided to trust to modern technology and set the sat-nav for the shortest route. We certainly found some roads that Gordon would have been proud of, with grass growing in the middle of 'em. The sat-nav only made one error, sending us down a road that clearly wasn't a through route, but apart from that, we found some excellent roads that would have otherwise gone un-travelled. Must try something similar on the bike when the weather gets a bit warmer.
---
---
We got back to Liverpool House by early evening, and spent a while recovering before heading down to The Crown for something to eat. I must admit, my chicken and chip butty was still sitting heavy on my stomach, but I opted for the chilli and chips non the less. Indeed my eyes were bigger than my belly, but the chilli was so good that I couldn't bear to let it get thrown away, so it was time for a "doggy bag" - and I must admit, I really enjoyed it when I got home the next day. One by one, most of the others wandered into The Crown, and that's where we spent the rest of the night. . . . . when I say "we", I mean Andy and myself, the others somehow managed to get dragged into Ty Morgan's on the way back.
---
This time my bedroom door did not try to hold me captive, so I joined the others for breakfast. It was then a case of grabbing my bag, settling my bill and making a move. We came back via the more scenic Knighton road, and just had to call in at the Quatford cafe for a cuppa.
So ended our B&B weekend. Despite the pain, I'm glad I made the effort to drag myself down there - I'll have to try a few more B&B weekends this year.
---