The "Old Bike Guide" show.
---

Sunday 8th April, the sun is 'almost' shining and there's a bike show on at the "Truckstop" cafe, Whitchurch. What better reason do you need for a ride out ? Just for a change I dug the trusty Enfield out and set off along the M6. Now Enfields and motorways just don't mix - would you be happy on a 24 bhp bike going along a boring road? Exactly !
As soon as I was clear of the 'urban sprawl' I dropped off the motorway and hit the A roads, well, the A41 to be precise. This happened to be useful seeing as the show was being held just where the A49 and A41 meet. I rolled up on the cafe car park, which was already filling up nicely, and headed straight for the food. I'm not daft when it comes to getting fed, I knew there would soon be a long queue and an even longer wait.
The rest of the Moonshiners contingent would be along shortly seeing as they were only camping a few miles down the road at Wem. I'm afraid I had to give this weekend's camping a miss due to 'other commitments'.
So, armed with my trusty camera I wandered around the array of weird and wonderful machines that were filling the car park.
---

The first thing that caught my eye was a 'Morgan' type trike with what appeared to be one solitary BMW cylinder barrel sticking up at the front end. Thinking a 500cc single wouldn't exactly be in the performance league I took a closer look. Not one, but three BMW cylinders were sitting happily in a radial formation. Now that's some serious engineering - a 1500cc radial BMW engine. I like it. It sounded as nice as it looked.
---
Another kind of special was parked next to my bike, in fact there were three of these particular beasties. A Robin 400cc diesel engine, fitted into an AJS frame. Complete with electric start, these engines will 'top out' at around 70 miles per hour but the fuel economy works out at around 200 mpg. Now I happen to have access to a 'spare' twin cylinder diesel engine. Time for some fun, I think.
---
No bike show would be complete without the obligatory Vincent - so just for good measure here we are.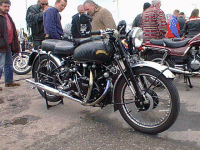 ---
The "Tower of Power" and a Busmar "Flying Egg"..... or in real terms a Panther model 100 and a Busmar double adult sidecar. Not the fastest of outfits, but speed ain't everything. Just for the record, there were some very well sorted and fast outfits at the show but I happen to like Panthers - so there !
---
One of the many variations on the BSA Bantam theme - the "Bushman". Once again the nostalgia bug bites - yep, I had something very similar to this in my youth, a D14/4S to be precise.
---
Back to