Welland Steam Rally.
23rd July. 2004.
---
Ok - so it's taken me almost six months to get around to doing this, but that's what you come to expect from the Moonshiners.
As in previous years, we had a word with our friendly farmer type person, and were told we could use the same field. What we hadn't been told, is that the grass hadn't been cut. Now we happened to know the field is flat, with no nasty surprises lurking under the grass, so we slowly made our way to the one end, and I must admit it looked rather strange to see a convoy of heads moving across the field. The one thing we weren't short of was grasshoppers, they were all over the place. Still, at least they don't make much noise, and they don't sting. In keeping with Moonshiner tradition, once everything was in place, it was feeding time, and, following the feeding, a walk around the various things that go to make a steam rally.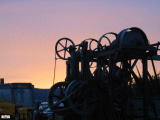 This event is getting bigger each year, and that's led to something that we can all do without; Thieves. Yep, we were informed that quite a few folks had lost generators, gas bottles and various other things from both inside and outside of their caravans / tents. One of the downsides of steam rallies compared with bike rallies I suppose. The other thing I noticed this year, was the amount of stalls that were not 'steam related' in any way, the sort of stall that you find on most Sunday markets. I can understand stalls selling ex military surplus, second hand and new tools, auto jumble type gear - but stalls selling designer label trainers, furniture, and even fitted kitchens. It certainly makes you wonder whether it's just turning into another money making venture. Anyroad, enough of all that - we spent a good while watching the tractor pulling, which as usual continued well into the early hours of the morning.
---
Saturday saw us heading into Ledbury for a nose around and some dinner. One shop owner was convinced that a well know celebrity had entered her shop, and it took a lot to convince her that it wasn't really Bill Oddie who had graced her premises.
We did however find a local celebrity, namely "Bill the Bell" , the town crier, so called because he's named Bill, and he carries a bell. After much town crying, we headed back to the site and once more were treated to a magnificent firework display . . . . . followed by the Wurzels.
---
So ends another Welland steam rally. On the down side, the thieving scum made things far less laid back than usual, and the 'Sunday Market' appearance of the stalls made it feel a bit too commercial. On the plus side, the weather was great, we had the field to ourselves, and my gearbox didn't fail on the way home this time.
---
Cheers
^..^
---
back to