Welland Steam Rally.
25th - 27th July.
---
As in previous years we had our own little corner of the field - ok, so the grass was a bit long in places, but we've coped with far worse. It looked like being a good weekend, both turnout and weather-wise. I loaded up "DOT and the Dog Kennel" - went and picked up my partner in crime, Andy, then set off for Welland, Apart from a closed road in Worcester the journey went well. A quick stop at Upton for a few essentials, then on to the site. Once again the smell of coal fired engines was the first thing to greet us - that and the smell of unburnt diesel from the late night tractor pulling. I noticed the evening's musical entertainment was the Plonkers Agricultural Orchestra, a sort of Wurzles tribute band. I'm afraid they didn't hit the spot, as they say. Still, each to their own. By midnight I wandered back to the field, cooked a quick supper, and demolished a bottle of Theakstons Old Peculiar.
---
Saturday morning, and the weather looked like being in our favour. We took the winding pathway back to the steam rally and spent a while looking around the various stalls there. I noticed that sun hats were selling well, whilst Wellington boots were a bit slow to shift - unlike a few years back when heavy rain made the going muddy. By around dinner time it had got far too hot for walking around, so three of us - two Andys and myself, headed out on one BSA Starfire and one trike. We took a scenic ride up over the Malvern hills and on to Symonds Yat Rock, where the obligatory ice cream stop was in order. We took a look over the top of the rock.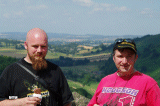 No run would be complete without some kind of "event". Today's was an electrical fault on DOT which caused the indicators, horn, pass light and electric speedometer to fail. A quick furtle found a dicky fuse holder - which ain't played up since ( fingers crossed ). By the time we returned to the steam rally it had cooled off enough for dinner. Having fed, I then decided to take a look at things from a different level - a good sixty foot or so above the ground. Ah - a Ferris wheel, the very thing I was looking for. According to some people, full stomachs and Ferris wheels don't mix. I have to disagree there - my dinner stayed firmly where I placed it.
A few other bodies were still happily on the ground. They don't know what they're missing.
---
The rest of the day was spent admiring the various steamy objects that were on display. Along with the steam engines were such delights as military vehicles, motorcycles, vintage cars, old lorries, tractors, can-can dancers, stalls selling all manner of strange things. All in all, a veritable cornucopia of fascinating items. To round the evening off there was the firework display, and this year's was no disappointment,
---
Sunday morning saw us all packing away. Some were heading for the coast down at Porlock - there's a good chance I'll be joining 'em later on. Pete went into "rose tinted goggles" mode and took root on Andy's BSA Starfire. Ah, nostalgia ain't what it used to be.
We had planned on taking another good look around before heading for home, but the weather proved too warm once again. After about half an hour, we decided it would be better to pack away in a leisurely fashion and take a steady ride back home - and that's just what we did. Another Welland weekend done and dusted - at least it was a vast improvement over last year's September event.
---
back to